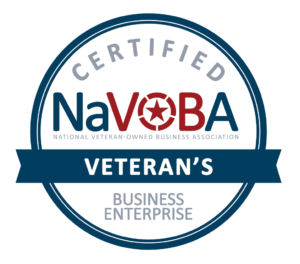 For Immediate Release:  Economic News: Veteran-Owned Businesses
New Braunfels, Texas, September 6, 2019 – Nexus is proud to announce that it has earned the exclusive designation as a Certified Service-Disabled Veteran's Business Enterprise™ (SDVBE) from the National Veteran-Owned Business Association. To be eligible for the designation as NaVOBA Certified SDVBE™, the applicant firm must be at least 51% owned, operated and controlled by one or more U.S. military veterans. At its core certification is a protection for both veteran-owned businesses as well as the corporations and organizations that do business with them.
"Our team is are honored to receive this certification from the NaVOBA," said Ed Bolton, CEO and President of Nexus. "It was a profound privilege to serve my country and I am humbled for the recognition of this service which has earned Nexus this esteemed designation. This certification serves to honor all members of the Nexus family with ties to the military and their contribution to our country. The SDVBE certification will provide strategic support to our clients and partners."
Recognition
NaVOBA's SDVBE Certification ensures the firms that receive contracts are truly deserving of the opportunity. Heather Herndon-Wright, Director of Supply Chain Diversity for Dallas-based Vistra Energy and a NaVOBA Board Director, said verification and validation of the ownership, control and management of suppliers participating in the company's supplier diversity initiatives is critical to the integrity of Vistra's efforts.
"NaVOBA's certification ensures we are utilizing and developing companies that are truly owned, controlled and managed by the veterans we are endeavoring to support." Wright said.
About Nexus
Nexus is a national provider of independent clinical review services for the risk management and insurance industry. Founded in 2009, the Texas based company has grown to over 100 employees and manages a panel of over 1000 esteemed board-certified physicians. Providing tens of thousands of reviews annually, services include Pre-Authorization Reviews, Retrospective Reviews, Medication Reviews, Disability Reviews, and Group Health Reviews. Nexus is committed to the continued investment in innovative technology and progressive solutions that achieve exceptional outcomes for all our partners and clients. Learn more at www.nexmc.com.
About The National Veteran-Owned Business Association (NaVOBA)
NaVOBA is an independent 501(c)(3) nonprofit organization led by Corporate Supplier Diversity professionals. It is the mission of NaVOBA to create corporate contracting opportunities for America's Veteran's and Service-Disabled Veteran's Business Enterprises (SDVBEs) through certification, advocacy, outreach, recognition and education. NaVOBA provides a direct link between corporate America and veteran's business enterprises, to improve business opportunities for SDVBEs of all sizes.
Media Contacts:
NaVOBA Media Relations Team
inquiries@navoba.org
(724) 362-8622 ext. 103
Caitlin Bascue, Nexus Media Relations
CBascue@nexmc.com
830-632-7000