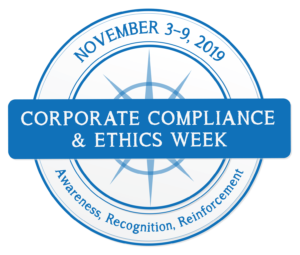 Nexus Enterprises, LLC specializes in providing Utilization Management and clinical review services to the Workers Compensation and healthcare industry. We are delighted to once again participate in Corporate Compliance & Ethics Week with a kick-off breakfast for all staff to meet and greet with the Nexus Privacy and Security Compliance Officers. During the week of November 4, 2019 Nexus' Compliance Department will be posting daily Compliance & Ethics blogs to the company intranet site. Each blog will contain reinforcements of Nexus' policies and will provide examples of recent enforcement actions against other companies who have suffered the repercussions of non-compliance. In addition to the daily blogs, each team member will attend a scheduled compliance refresher training and sign an acknowledgement form. This year, we have invested in a new interactive training platform that allows us to engage our team members during the training by allowing them to participate in a competitive quiz scenario from their phones. Team members will have opportunities to win exciting prizes for answering Quiz questions that relate to the daily Compliance & Ethics blogs and interactive training. Additionally, Nexus takes our recognition of our internal Compliance Ambassadors a step further by asking each team member to submit a self-nomination for Compliance & Ethics Champion, an award that Nexus' executives feel is very important. We also ask each team member nominate someone else for an Integrity Award! Prior to starting any role with Nexus, team members are trained on their responsibility to maintain the privacy and confidentiality of all information they have access to or come in contact with. Team members sign confidentiality and conflict of interest statements and acknowledge policies that describe the acceptable use of issued computer equipment and internet access. Nexus is excited to spend CC&E Week reinforcing our commitment to compliance continuity!
About Health Care Compliance Association (HCCA)®
Established in 1996, Health Care Compliance Association (HCCA)® is a member-based association for healthcare compliance professionals. Serving more than 12,000 members across the country, we're dedicated to enabling the lasting success and integrity of those working in, working with or supporting healthcare organizations. Incorporated in 2011, Society of Corporate Compliance and Ethics & Health Care Compliance Association is a 501(c)(6) non- profit organization.
Our members include compliance officers and staff working in hospitals, research facilities, clinics, and technology services providers, as well as anyone providing services or goods to these organizations or the compliance community. Each member has direct access to our CEO, Gerry Zack.
Learn more about the Health Care Compliance Association here!